Must Australians worry about terrorism?
New anti-terror laws in Australia
On Tuesday (September 27, 2005) the Australian federal government agreed on new anti-terror legislation with the state premiers. Australian security forces can now detain terror suspects for 14 days without charge and monitor them for up to a year. The new package of laws includes stricter controls on citizenship applicants and imposes prison sentences on inciting acts of violence. The police are given increased powers of searches and interviews.
Re-examination
State premiers said they passed the bill because Prime Minister John Howard promised in return that the measures would be re-examined after five years. In addition, the laws are limited to ten years: After that, they must either be abolished, amended or approved again. Nonetheless, civil rights activists fear that the new laws grant the police and the secret services too extensive rights and that there is a lack of security based on the rule of law.
Prime Minister John Howard said the laws were necessary. He could not rule out that Australia would be the target of a terrorist attack in the future. "These powers do not go beyond what we need. But they go far enough so that we can do everything we can to protect the Australian people." Amnesty International objects that detaining suspects for 14 days is a draconian measure and erodes long-standing freedoms.
No constitutional protection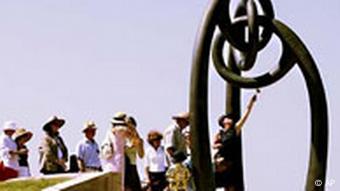 The memorial to the Australian victims of the 2002 Bali attacks in Sydney
Queensland Prime Minister Peter Beattie partially agrees. Still, he supported the bills, which he describes as a necessary evil. "If it weren't for the terrorist threat, we would never have approved such laws." The chairman of the Australian Civil Liberties Council, Cameron Murphy, complained that the existing laws are sufficient to fight terrorism. He said the new police powers are too far-reaching. Some laws were reminiscent of the United States' Patriot Act, while others were reminiscent of the laws recently introduced or debated in Britain. "The big difference between these two countries and Australia is that they have significant human rights laws like the Bill of Rights. There is nothing in Australia that constitutionally protects people from excessive police violence."
The chairman of the Australian Islamic Mission, Zachariah Matthews, also sees a need for additional protective measures. Even if the new legislation does not mention Islam, it still expects negative consequences for the Islamic community. "My main concern is the deployment of the secret services. Where is the legal protection? And of course there will be mistakes, so that people will be held in error. What consequences will this have for the Muslim community?"
Australia has not suffered a major attack in peacetime. In 2002, however, 88 Australians were killed in the attacks on the Indonesian holiday island of Bali.