What is the architecture of Google App Engine
Abstract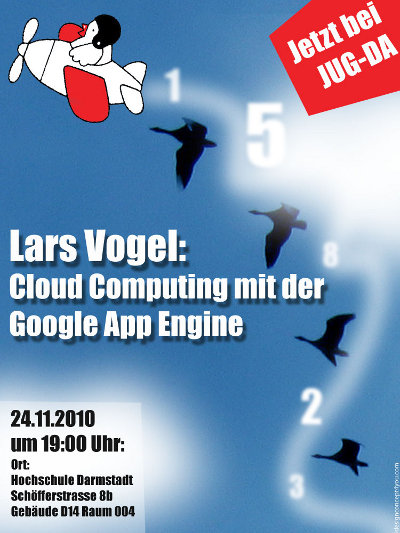 Google offers hosting of Java and Python based applications on the Google App Engine. The nice thing about it is that the hosting for smaller web applications is free, i.e. you can easily get started without having to charge your credit card. The lecture presented the insights into the architecture of the Google AppEngine and shows how easy it is to create web applications with the Eclipse-based tools of Google. Deploying Java web apps has never been so easy. The participants took the opportunity to discuss the advantages and disadvantages of cloud computing with Lars Vogel. Why is a cloud application worthwhile? What are the hidden risks when using it? What security do I gain when using a cloud application? After an introduction to the basic working method of the Google AppEngine (How does Google achieve the high stability of the applications? How can you technically provide several thousand applications on one server?), Lars Vogel went to the individual APIs made available and the hidden APIs (java whitelist).
As part of the presentation, the possibilities of saving data on the AppEngine (JPA, JDO), the email API and many other APIs were shown. The Google AppEngine uses a NoSQL BigTable database as the database. Since the BigTable has certain restrictions, the AppEngine offers additional standard APIs that can be used to accelerate access to data. Debugging is supported by an administrative console and debugging tools such as AppStat.
WebApps were created as a demo that automatically send updates to Twitter regarding a chat robot that, based on the XMPP protocol, allows you to talk to it. Lars Vogel was also able to give us a good insight into the future trends in Google AppEngine development.
Speaker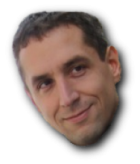 Lars Vogel is a freelance trainer and developer in the Eclipse and Android environment and works as a product manager at SAP AG. He is a regular speaker at events such as EclipseCon, Java Forum Stuttgart and MobileTechCon and publishes under tutorials, which are read by around 15,000 visitors every day. Lars recently received the Eclipse Top Contributor Award 2010.
additional Information
Blog post by Jörn Hameister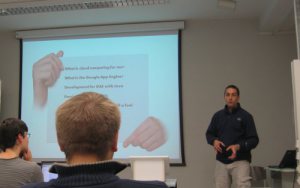 An event by iJUG e.V., organized by JUG Darmstadt.