What's the best unified messaging app
Unified Messaging - now in beta
If you use our free version or our team package, you may have already noticed that there is a new area in the left menu of the dashboard: Unified Messaging.
Don't be fooled: this inconspicuous menu item hides one of the greatest developments since Userlike was founded.
Let me first briefly summarize the big new:
You can now use the beta version of Unified Messaging. With Unified Messaging, Userlike is taking the step from pure live chat support to flexible messaging support. With this development, we are overcoming the biggest hurdle in many companies' web support: the need to be online all the time. It also makes it easy for you to expand your customer service from website chat to channels like Facebook Messenger, Telegram and WhatsApp.
So now let's dive a little deeper.
The biggest obstacle businesses face in live chat support is the fact that someone has to be online all the time. This is especially a challenge for those who do not have their own support team.
To understand how to use Unified Messaging to overcome this challenge, we first need to understand the difference between synchronous and asynchronous communication.
From synchronous chat to asynchronous messaging
So far, Userlike has only been synchronized live chat. In order to have a chat, both the operator and the website visitor had to be online at the same time.
With Unified Messaging, Userlike can still be synchronous, but also asynchronous. In other words: messaging. You are certainly sufficiently familiar with the sync-async mode of communication via messaging apps such as WhatsApp or Facebook Messenger. Without most people realizing it, messaging apps have started a revolution in the way we communicate with one another.
The expectation in messaging is that messages can be sent even when the other side does not have time to read them. The exchange of messages alternates seamlessly between a slow back and forth - which can drag on for hours or days - and the immediacy of a classic desktop live chat. That's why you won't "Still there?" read more. The broadcaster knows that when you are there, you will be there. The expectation is that a sent message will stay with the recipient until he can and wants to reply.
With Unified Messaging we are introducing this messaging mode into B2C communication.
This change has two critical implications for your use of Userlike.
Reduced pressure to be online
As mentioned, the challenge of always being online has always been the biggest hurdle our customers face when it comes to web support. The sync-async nature of Unified Messaging allows you to get on and off fluently without disrupting the customer experience.
When you are online, chat live with your customers as you normally would. Live chat is still the most powerful way to increase your online conversions and meet your customers' needs for immediate needs.
But when you are not online, customers can still leave you messages. Just like in a messaging app, just reply to them when you're back online. Your response triggers an email notification letting your customers know that the conversation can now continue on your website (with the nice side effect of getting people back to your site).
This feature of messaging makes it much easier to provide web support even if you don't have a dedicated support team. And companies with a well-developed support team are also relieved, as they often look after chat and telephone support at the same time. When a call comes in, operators can switch to async mode without greatly affecting the customer experience.
Extend support to mobile messaging
The second big impact is that this switch allows you to use Userlike as the solution for all messenger interactions with your customers. That means both via your website chat as usual, as well as via messaging apps such as WhatsApp, Facebook Messenger, Telegram, Apple Business Chat and even the good old SMS.
We had built in some of these shortcuts in the past, but so far there was an inconsistency as Messenger apps were sync-async while Userlike was only sync. As a result, the messenger channels were only useful to a limited extent. But with Unified Messaging, Userlike is adapting to the sync-async character of messaging apps.
Now let's take a quick look at the main pillars of Unified Messaging.
Conversations
The 'old' chat panel was designed for short-lived chats with a clear beginning and end. The interface could not display long-term messaging-style conversations. The new Message center is built for exactly this purpose, which leads us to the first main pillar: Conversations .
The message center where conversations become customer relationships.
Instant messaging works as usual, but unified messaging conversations are the catalyst for long-lasting customer relationships. When a chat with a customer ends, it doesn't mean the conversation is over. As with a mobile messenger, both sides can pick up the conversation again at any time.
contacts
The shift towards unified messaging has also stimulated us to question the role of the customer. In the end, the customers are the real heroes of your story, that's why we wanted to give them more space in our software. At the same time, we wanted to make it easier for you to manage your customers. That brings us to the second pillar of Unified Messaging: contacts .
A contact can have multiple ongoing conversations with your company. That's why we have set up a new area for this: the contact list . While the list of conversations is the standard view for your support staff, the contact list allows you to go through all contact profiles. All conversations and further customer information are collected in this. In short, the contact profile is a digital representation of your customer relationships.
The contact list, the digital representation of your customer relationships.
Channels
The third pillar is that Channels . Your website is probably your primary stop for connecting with your customers. But with Unified Messaging, you can also offer customer service via channels such as Facebook Messenger, Telegram, WhatsApp, Apple Business Chat and SMS.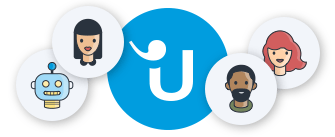 Do you want better customer relationships?
Try Userlike for free and chat with your customers on your website, Facebook Messenger and Telegram.
Learn more
Note: Most of the inquiries we receive are related to WhatsApp. From our side it is possible to connect Userlike and WhatsApp. However, access to the official WhatsApp Business API is required and the number of companies that can access it is currently limited. Contact [email protected] to learn about your options or contact Facebook directly.
The website messenger
The fourth and last pillar is the website messenger. All product changes on the operator side also had to be carried over to the customer side.
For example, to enable your customers to revisit previous conversations, we had to incorporate an authentication function.
While we were at it, we gave the website messenger not only these technical functions, but also a neat redesign.
The website messenger, now with new functions and a fresh design.
This is how we build unified messaging
In order to implement all of these innovations, we had to make some drastic changes to our software. So drastic, to be precise, that we have launched a completely new product parallel to our current live chat product.
Really. Unified Messaging is based on a completely new code structure. This has a couple of consequences:
For one thing, Unified Messaging does not currently have "feature parity" with the old live chat product. That means, that you will not find all the functions that you are familiar with in the beta version . For example, the add-ons are still missing.
Our goal for the following months is to further develop Unified Messaging; taking into account your feedback and aiming to achieve perfect feature correspondence.
So far, however, the new development of the product has mainly had advantages. We were able to reduce the complexity and avoid our existing product becoming unstable. It also allowed us to get on that to fall back on the latest technology standards .
You may not have been aware of it, but messaging is one of the fastest growing fields. Think Slack, WhatsApp and WeChat, along with the innovations that have driven them. We don't feel a bit guilty about making use of these innovations and transferring them to the field of customer communication :)
The result is a customer messaging interface that is largely inspired by messaging solutions - but specializes in the challenges of scalable messaging support.
Userlike's co-founder and CEO Timoor sums up our reasons why we developed UM in his introductory video:
Be part of the beta
If you use our free package or the team package, you can immediately participate in the beta via the unified messaging link in the dashboard. The reason why we limit the automatic activation to these two packages is the mentioned incompleteness of the functions.
For Free and Team, switching to Unified Messaging means one thing above all else: expanded options. If you use a corporate package or higher packages, you will currently miss some functions that made an upgrade interesting in the first place.
Of course, you are still welcome to attend! Send us a short message to [email protected] or start a chat and we will activate your account immediately.
To get started, check out our Unified Messaging tutorial section here.
It's a beta and we'd love to hear a lot of feedback. If something doesn't work or what you want, let us know at [email protected]
Unified Messaging is the biggest advancement of Userlikes since I wrote this miserable first blog post in December 2011. We put a lot of blood, sweat and tears into this project - and will continue to do so in the coming months. Let us know if it's worth it. :)