How many Salesforce certified consultants are there
Our Salesforce consultant are certified and have years of expertise in the areas of SAP, Salesforce and project management. The following types of consultants complete our consultant portfolio:
Sales Force Consultant
Technical Architect
Salesforce administrator
Development Consultant (Apex Programmer, Force.com Developer)
Salesforce project manager
SAP ERP Integration Consultant
As you can see: We have a suitable consultant for each of your problems!

Our additional services
We take 100% responsibility for the project's success.
We rely on standardized best practice solutions with highly optimized quality assurance and control processes.
At the beginning, we create a detailed requirements analysis to include your ideas and requirements, create an implementation concept on this basis and provide you with a reliable estimate of the costs.
Our advantages for you
We have many years of experience in Salesforce CRM and Sales Force development in Apex and Force.com
We have extensive know-how in the Salesforce CRM standard processes and beyond
We are trained computer scientists - we love IT - but we still understand your language
We are Salesforce - as well as Prince2 and SCRUMcertified!
We are flexible - if you have a bottleneck, we are available
We are cheap - our prices are unbeatable
On request, we work on site or remotely with you - and with our processes we ensure that you always have a direct line to us
We are committed - and are eager to make your challenge ours!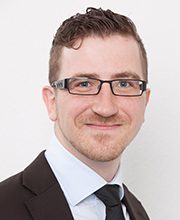 Salesforce consultant and developer
Head of Department Robert Richter
By the way: We are also happy to offer you the solution for entire problems and projects at a fixed price. I am happy to be at your disposal for a non-binding discussion as well as an initial consultation.
Do you have any questions? Contact me at [email protected] or 0211 9462 8572-65 and I will be happy to answer your questions in a non-binding conversation.