What is machine aesthetics
Dominik Schmitt and Benjamin Burkard have more in common than their passion for art: The two student teachers are studying art and biology at the Landau campus, they work just a few meters away from each other in the studio of the University of Koblenz-Landau and even live in the same shared apartment. Both won the Germany-wide Villa Böhm sponsorship award for young art in Neustadt and received the Heinrich von Zügel scholarship from the city of Wörth. A double portrait.
Your pictures touch, your talent is already known beyond the borders of the Palatinate: The students of art lecturer Günther Berlejung have developed their own style since the beginning of their studies. Not least thanks to the support of the Landau lecturer: "He pushed me from the start. He gives every student their freedom when painting and tries to intensify what is already there. His opinion is extremely important to me, "says Benjamin Burkard. In the pictures of the native Kandeler everything revolves around man and machine. His thoughts on the subject of machine aesthetics are not only reflected on the screen, Burkard even worked on it in his thesis: "The subject of machines is extremely exciting, especially in modern times. Because we are dependent on machines, but no longer know exactly when we are connected to a machine and when we are not. "The student paints gears, dissolving figures and human figures with acrylic, varnish, colored pencil, pencil and oil. Recently, animals have also graced his canvases.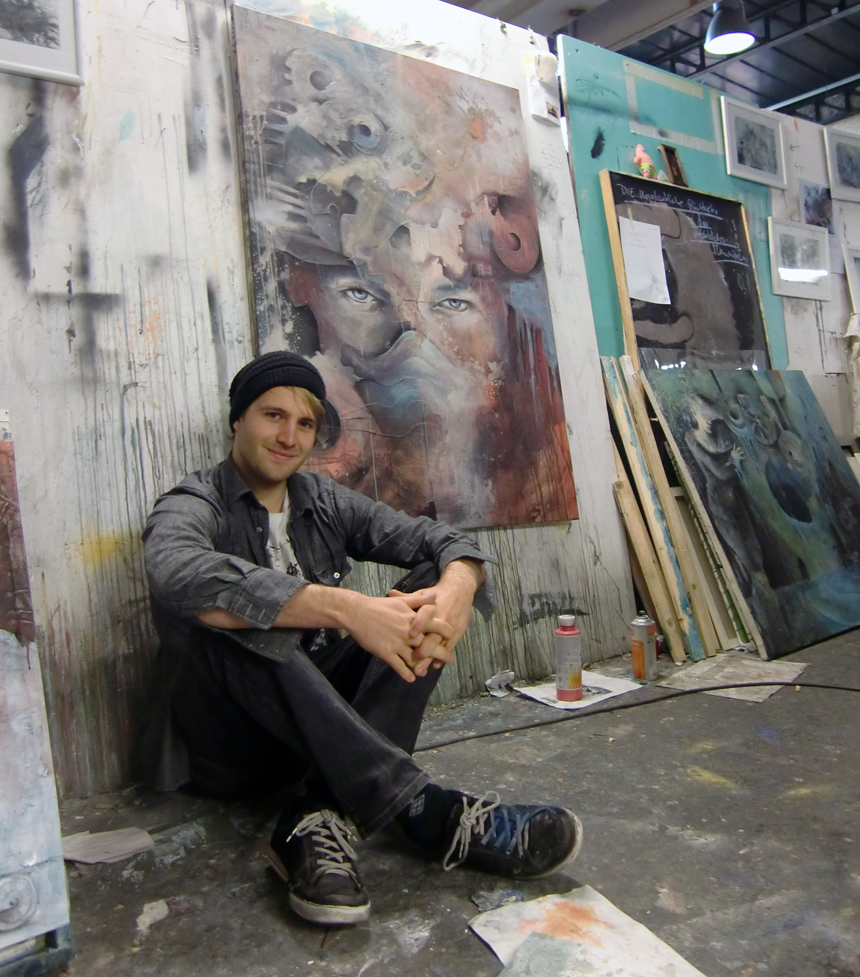 Benjamin Burkard unites man and machine in his pictures. Photo: Katharina Greb
His special approach: First he applies paint, then he destroys the painting again with solvents. Benjamin Burkard explains: "I try to walk a tightrope between figuration and abstraction. That means, the more realistic a figure in the picture becomes, the more I try to destroy it again. The attraction of this is that I mix the non-representational with the representational and thus create a tension. "He calls this experimental technique visual alchemy, in which he picks everything apart and recombines into completely new components.
The creative mind tries again and again to make new connections from machines, humans and animals. Anyone looking at Burkard's pictures is going on a journey of discovery. "My pictures should provide the greatest possible freedom of interpretation. Everyone has their own categories and symbols, so some people see a zebra in details and others see a skull. A closer look always reveals something new. "
Until December 15, the 27-year-old will be exhibiting over 40 works in his solo exhibition entitled "State of Nature" at Villa Böhm in Neustadt. In addition to oversized works, it also shows installations and drawings on an area of ​​almost 200 square meters: "It is a unique opportunity to exhibit in Villa Böhm. The title of the exhibition alone is an irritation in itself for the people who know my pictures. An apparent contradiction. "The latest highlight is an installation: Benjamin Burkard exhibits his drawings in" vivariums "made from wooden boxes and glass showcases from old aquariums. "They go wonderfully with the style of the pictures."
Shared childhood dreams and animal leitmotifs
As a child, the prospective high school teacher wanted to become a paleontologist just like his colleague Dominik Schmitt. On closer inspection, dinosaurs can be found on Dominik Schmitt's canvases. For the artist, dinosaur skulls are a childhood motif in his visual language: "In our time there was a dinosaur magazine that I collected. In every booklet there was a piece of a skeleton and at some point you had a whole plastic skeleton that glowed in the dark. "
Dominik Schmitt can still be seen today with an almost childlike enthusiasm. Especially when he talks about his countless projects. He actually leads a classic student life, he says, but then there is the job in the Kunsthalle Mannheim, exhibition preparations, children's book illustration, a music video shoot for the befriended Landau band "Lluvia" and a CD cover creation for the Mainz-based company Singer "Mine". Dominik Schmitt has also released two short films. The bizarre animated works with the names "Placenta" and "Paradigm" were created over years of work. In order to get his pictures moving and breathe life into them, Dominik Schmitt painted over 9,000 individual pictures for "Paradigma" alone. "During the creation process, I spent every free minute in the studio. Since I needed constant light, I had to paint at night to prevent minimal changes in the photos. "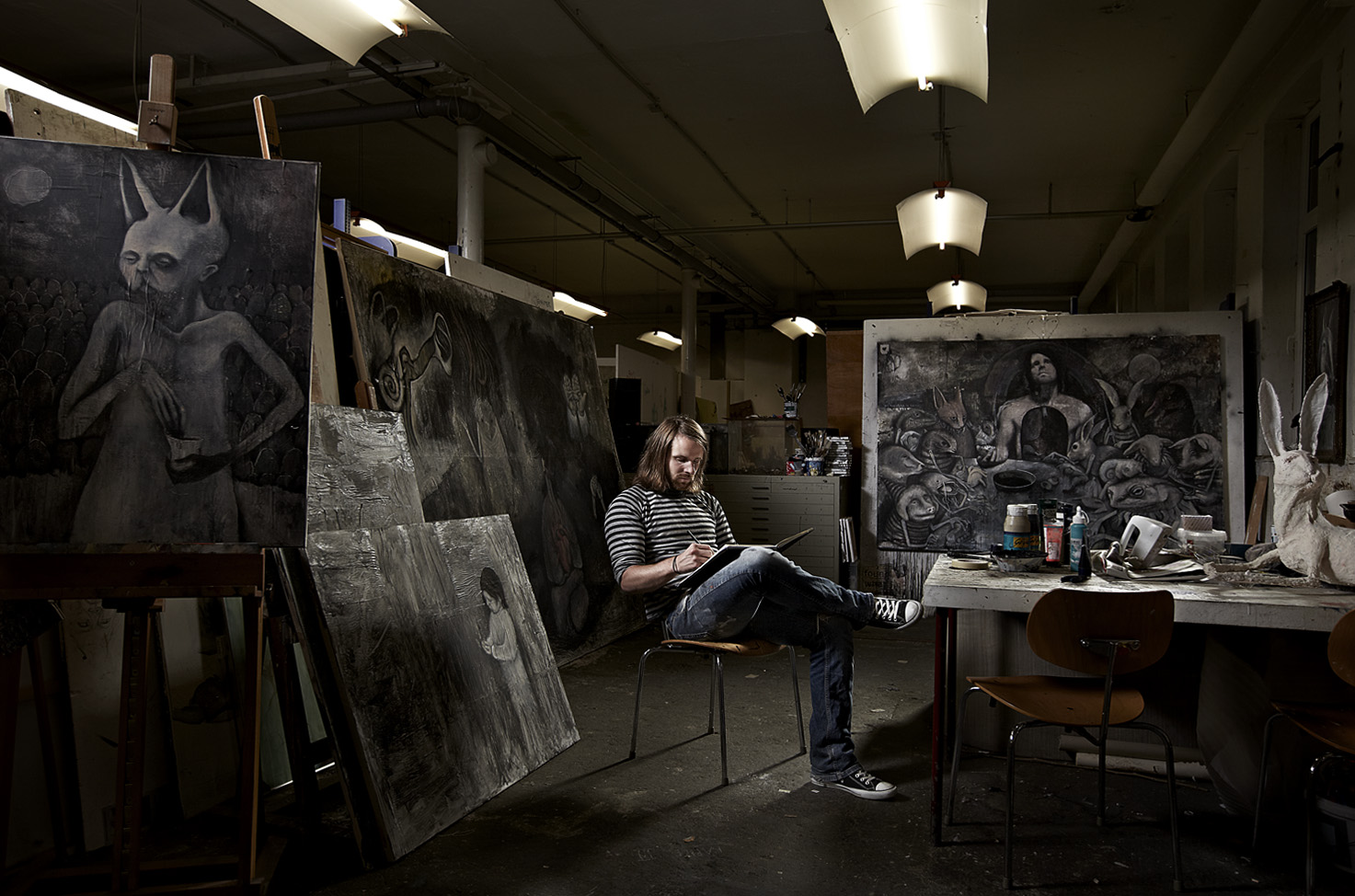 Dominik Schmitt notes down new ideas and ideas in his sketchbook. Photo: private
A new film with cut-out animation technology is being planned, for example in the US cartoon series "Southpark". Born in Lambrecht, he has already experimented with stencils. "I try to get everything under one roof at the same time. I don't know if that's a good thing. But I do what I feel like doing. "
Dominik Schmitt's pictures appear gloomy at first glance. Spooky white rabbits, fish or sheep cavort on a dark background. But he also wants to express his connection to nature in it. "The pictures are painted with a lot of black, but I don't find them gloomy."
The animals on the screen are like actors on the stage in Dominik Schmitt's life. "Basically, my pictures are about dealing with myself." That is why the artist often appears in his own pictures, mostly naked and timeless. But he doesn't like to paint on bare canvases: "In the beginning I wallpaper paper, that is, old drawings or university documents in a mess on the canvas. So at some point I will have a painting surface with which I can start the picture and which lets me see forms and shapes that come from the unconscious - pictures that I could never have planned. "Dominik Schmitt also works with many materials for In addition to acrylic paint, he also uses colored pencils, pencils, Edding, oil, chalk and spray paints for his motifs. "I try not to forbid myself as much as possible."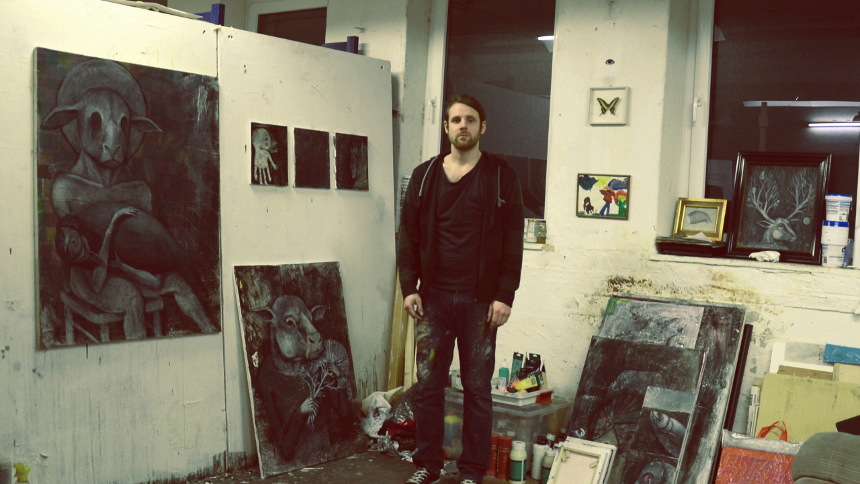 With his pictures Dominik Schmitt wants to express his fascination for animals and his closeness to nature. Photo: private
Buddy or competitor?
Dominik Schmitt and Benjamin Burkard met five years ago at university and were exceptionally successful with their pictures. But there is never any competitive pressure between them. "Benjamin and I are now good buddies," says Dominik. Benjamin is of the same opinion: "We are roommates and we love each other very much." The two of them often work to loud music in the studio. Similarities can also be found in their techniques, because both work with watercolored layers. Their motives, however, are fundamentally different. "We have a different view of art. I look for the truth or question it and revolve around myself in my pictures as if in a self-discovery. I believe that Benjamin is more about a kind of understanding the world. So I look inside, he looks outside, "summarizes Dominik. For the art scene, the friends are a stroke of luck. "The people of the Palatinate are often criticized for not delivering good art. But that is not true. In the meantime, word has got around that Dominik and I have a lot of projects, "says Benjamin.
Anyone interested in art by Schmitt and Burkard can admire their works from December 14, 2013 to January 26, 2014 in the Landau exhibition "Fresh (e) Art" at the Kunstverein. The winter exhibition with pictures by eleven young artists from the region is aimed primarily at young people and students. Dominik Schmitt is happy about the chance: "It's a shame that so few young people have come to the Villa Streccius so far. We have a university with an art institute here, whose students like to exhibit and as a result also attract a young audience. The exhibition starts with a festive vernissage on Friday at 8 p.m. All interested parties are cordially invited. "

Katharina Greb
The exhibition "Frisch (e) Kunst" is open Tuesdays and Wednesdays from 5pm to 8pm and Thursdays to Sundays from 2pm to 5pm. More information is available at www.kunstverein-landau.de. If you want to find out more about the artists, you can find out more at www.dominik-schmitt.com and www.benjamin-burkard.de.