What is the vocal range d2 f5
More like bass or soprano? Find your voice type

For many, expressions such as soprano, mezzo-soprano, or alto may describe titles from TV series, Italian pasta, etc. Others, like the musicians among us, have certainly already recognized some of the different voices of singers. Many believe that these terms are reserved for choirs and operas, but the truth is that these categories can be applied to any singer. Which category do you fall under? Soprano, alto or another? Here is the guide to help you find out which one your voice fits into.
When dividing a voice into a category, several factors come into play: tone, intensity, vocal register, timbre, physical attributes, and vocal position.
But what is a vocal range?
It all started with the vocal system, a method of classifying vocal positions. This was developed in German opera houses at the end of the 19th century and is used to easily classify the roles of every singer.
The vocal range represents a range of notes that the singer can comfortably reach and the volume that can be reproduced when changing from the lowest to the highest note.
This measurement does not mean that the singer is unable to reach some notes, but rather which notes can be hit without effort.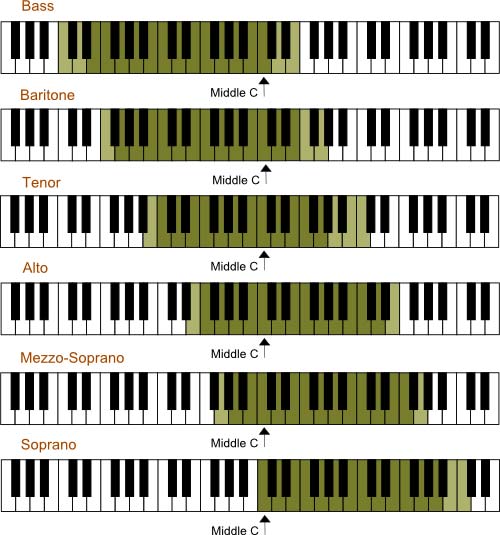 To find out where your voice fits in, here are the different categories, from lowest to highest:
bass
From D2 to E4
The lowest of all voices and very rarely is divided into two categories:
The high bass, sharper and more lyrical.
The classy bass or deep bass, wider and reaches slightly lower notes.
Some famous bass singers: Ivan Rebroff, Jules Bastin, Tom Krause, René Pape
baritone
From G2 to G4
The most common voice among men: the baritone falls between tenor and bass and a powerful masculine presence that falls into two categories:
Lyric baritone flexible, warm and melodic.
Dramatic baritone particularly elastic, solemn and generous.
Some famous baritones: Elvis Presley, Johnny Cash, Jeff Buckley, Gabriel Bacquier, Tito Gobbi
tenor
From C3 to B4
The highest and most powerful voice in men: Tenors are categorized in the same way as sopranos:
Dramatic tenor , strong and powerful, full, but with less agility.
Tenor spinto , is characterized by a high volume and a present timbre, while still achieving high notes.
Lyric tenor, shows abilities in high registers, with full timbre.
Tenor leggiero, is particularly fluid in high pitches.
Countertenor, measured by the ease and mastery with which particularly high pitches are achieved.
Some famous tenors: Freddy Mercury, Luciano Pavarotti, Michael Jackson, Roberto Alagna, Enrico Caruso
Countertenor
From G3 to C6
The rarest voice range in men, a countertenor is the male equivalent of a mezzo-soprano and soprano with a particularly broad voice range.
Some well-known countertenors: Philippe Jaroussky, Farinelli, Klaus Nomi, Carlos
Old
From E3 to F5
The alto is the lowest of the female voices and also the rarest and is characterized by a slightly dull timbre. This type of voice is intense and rare.
Dramatic alto, deep, powerful and with a heavy coloring
Coloratura, light, flexible and holds notes
Lyric low alto , lighter in timbre and less flexible
Some well-known alto voices: Adele, Amy Winehouse, Annie Lennox, Marian Anderson, Janet Baker, Kathleen Ferrier, Maureen Forrester
Mezzo-soprano
From G3 to A5
The second-highest register for more classical female voices: the mezzo-soprano differs through a slightly lower vocal range and a deeper, warmer timbre. This type of voice is different from a soprano because its vocal range is set lower and offers a fuller and warm timbre. Numerous roles in the secondary opera repertoire have been written for this type of voice, which consists of the following three variants:
Dramatic mezzo-soprano, rich, powerful and with a medium to warm, high register
Coloratura mezzo soprano, flexible, full and with low to high registers
Lyric mezzo-soprano, soft and versatile
Some well-known mezzo-sopranos: Whitney Houston, Beyoncé, Madonna, Leona Lewis, Cecilia Bartoli, Cathy Berberian, Nadine Denize.
soprano
From B3 to G6
This is the highest pitch that can normally only be achieved by women and children. It is divided into five categories:
Coloratura soprano
Easy soprano
Lyric soprano
Spino soprano
Dramatic soprano
Some famous sopranos: Mariah Carey, Kelly Clarkson, Sarah Brightman, Maria Callas, Nathalie Dessay, Montserrat Caballé, Barbara Hendricks.
Did you find your voice type? Now is the time to find the perfect song
!
published on: 01/11/2015