What is the least reputable news source
Media study: which news source do you trust?
The study is called BBC / Reuters / Media Center Poll: Trust in the Media (.pdf) and is based on a survey of 10,000 people from eight different countries (UK, USA, Brazil, Egypt, D, India, Indonesia, Nigeria, Russia and South Korea). If you don't want to look at the pdf, you can just as easily view the data online.

The key question was which media sources are particularly trusted when it comes to news. Cross-national result: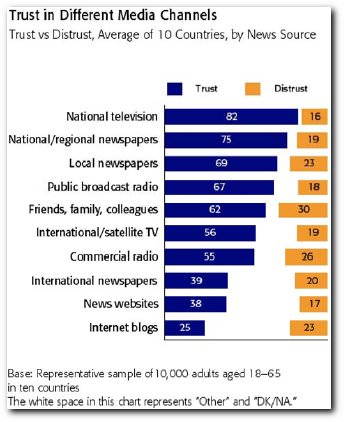 As you can see, TV and major newspapers are the most trusted. Blogs and news websites least. As an aside: Many a blogger has taken note of this (blog diplomacy, all sorts, cyberbloc, but also the international blogosphere is starting to deal with it. Of course, there will be a few more discussions. And the reactions will be like those of Golem.de) Any "smart" comments from the blog scene: David Brain, head of the PR agency Edelman Europe, held back with an assessment of the trustworthiness of blogs, which came at the bottom in the survey in all countries: "It's still too early to say anything about blogs at all say, because many people have not even heard the word yet ". The Reuters journalist Schlesinger added that it made little sense to speak of weblogs in a general sense anyway, since there are many millions. He expects there will be a "shakeout," a radical decrease. Those that users don't trust won't survive. Yo, it fits, I want to be BILD and Spon and Today and CNN in one, gentlemen, shake yourself 🙂 Just visit the article by Angels Sin, it will explain to you in peace what blogs are and what not.
As strange as I find it that the interviewees were given blogs to choose from in the survey, I am so amazed that even> 5% named blogs as trustworthy. In D even more than 1/3 of all respondents! In all honesty: When I want news, I also look in the newspaper, listen to the radio news or turn on the TV news from time to time. I wouldn't want to read news on my blog, what for?
Anyway, I didn't really want to dwell on this marginal topic (blogs = inadequate news sources) for so long. We come to the German survey results (I'll try to translate accordingly):
Germans are quite unique among all those surveyed: for 45%, newspapers are the primary source of supply before TV (30%). Other important sources are the internet (11%) and radio (10%). What is striking about the web as a source: twice as many men as women have cited the web as a news source.
Most Germans trust public radio stations (83%!), TV (81%), national newspapers (80%) and local newspapers (74%). The least trustworthy when it comes to receiving news are friends / family (25%) and blogs (38%).
Free LinkedIn guide!
Register now for our weekly BT compact newsletter. As a thank you we give you ours LinkedIn guide.
The specific sources of supply, which one has trusted most when naming them freely ("name the sources known to you that you trust the most" ... probably like that the question on the phone must have been):
ARD (22%), ZDF (7%), ntv / n24 (6%), RTL (4%), Süddeutsche Zeitung (3%), Spiegel (2%), Deutsche Welle (1%), Google, BBC and CNN websites with a total of 1%. Oupss ... if I were ZDF, I would think about it as quickly as possible.
Germans seem to get news particularly often: 80% follow the news every day and 91% use multiple sources. Nevertheless, and this is astonishing: Although Germans love their daily news so much, the majority (51%) do not think that the media cover their information needs well. And 54% are of the opinion that the media report too one-sidedly. But, they trust "their" media to the extent that they are free of state or foreign influences (only 1/3 of this opinion is that this is not the case).
It is also interesting to look into the future: As expected, the signs are completely reversed. The younger, the more intensively the web is used as the number one primary source of supply.